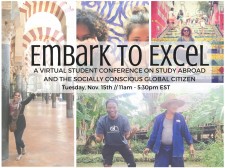 Diversity Abroad and IES Abroad to host 2nd annual Embark to Excel during International Education Week
BERKELEY, CA, November 1, 2016 (Newswire.com) - Diversity Abroad, in partnership with IES Abroad, is proud to announce the 2nd Annual Embark to Excel: A Virtual Student Conference on Study Abroad and the Socially-Conscious Global Citizen.  The Embark to Excel (E2E) Conference will be held on November 15, 11 a.m. – 5:30 p.m. (EST), during International Education Week.  The conference targets underrepresented college students from diverse ethnic backgrounds, first generation college students, religious minorities, LGBTQ students, students with disabilities, and high financial need students, with the intent to provide tools and practical guidance for navigating the international opportunities process.
"In today's increasingly interconnected world, it is important for students to have the experience and develop the skills to be competitive in the global marketplace.  Immersive global learning experiences can give students such skills, however too many students from diverse backgrounds are locked out of these opportunities and thus at a competitive disadvantages to their peers," said Andrew Gordon, CEO & Founder of Diversity Abroad.
E2E's virtual event model featuring live multimedia, student peers, and industry speakers, aims to reach more students at schools around the U.S. than would be possible at a single location. It also provides more opportunity to access top professionals within the field (in the U.S. and internationally), and students from all over the country to participate and share relevant and engaging information with our student viewers.
The first Embark to Excel Conference in 2015 provided attendees with the tools they needed to make study abroad within their reach. This year's E2E conference will focus on the benefits of promoting global opportunities as early as possible, and the role that study abroad plays in promoting social consciousness and global citizenship. 
Each session this year will feature experts in the field, and we're excited to announce that Tracey Friley, Founder of The Passport Party Project will be joining us as our keynote speaker! Student speakers include IES Abroad alumna and Blogger of the Year, Ashley Simmons (Brandeis University | Granada, Spring 2016) as well as Diversity Abroad Campus Fellow, Arielle Hankerson (College of William & Mary, Uganda, Spring 2016). Session topics include tips for writing award-winning scholarships, what it's like being a diverse student abroad, staying connecting with our communities while being abroad, and more.
Tracey Friley, Founder of The Passport Party Project said, "I'm honored to speak at the Embark to Excel Virtual Conference, an organization I respect and admire, to help enlighten and shape diverse college students so that they are ultimately prepared to take their places as global citizens."
To help spread the word even further this year, Diversity Abroad and IES Abroad are teaming up with Amherst College, which will be hosting live, on-campus sessions throughout the day, as well as serving as an on-site broadcast location for students from the five-campus consortium (Amherst College, Hampshire College, Mount Holyoke College, Smith College, UMass Amherst) to gather and watch the webinar sessions together in one spot.
Janna Behrens, Assistant Dean/Director of Education Abroad at Amherst College, said: "Amherst College is honored to be the host site for the Embark to Excel conference. As an institution, we have a strong commitment to diversity and are proud of the fact that a large percentage of our students—from all backgrounds—spend at least a semester abroad. This conference is an excellent opportunity for our students to share their voices and hear from others around the country."
Diversity Abroad and IES Abroad recognize that study abroad is an essential experience to developing global leadership and competencies to excel in today's interconnected society.  Both organizations are dedicated to advancing diversity in international education and championing young global leaders as they navigate study and career opportunities abroad.
Join Diversity Abroad and IES Abroad on Tuesday, November 15th as we Embark to Excel for the second year!  Students who are unable to attend the conference can still participate virtually by registering below to gain access to all session presentations and resources. Colleges and universities are encouraged to stream the E2E conference live as part of their International Education Week events on campus. For more information and to register visit: Embark to Excel.
Information on Embark to Excel:
Tuesday, November 15th | 11 - 5:30 pm EST | Register and learn more here!  
Follow at @diversityabroad @iesabroad #E2E2016 
Embark to Excel | November 15th Schedule:
11-11:15a​ - Welcome and Introduction: What does it mean to be a Socially Conscious Global Citizen?​
11:30-12:15p - Why You Should Study Abroad: What it is, Why it Matters, and How to Get Started
12:30-1:15p - Show Me the Money: Putting Together an Award Winning Scholarship Application​
1:30-2:00p - Keynote Speaker: Tracey Friley of The Passport Party Project
2:15-3:00p - Disconnecting and Staying Connected Abroad: Engaging our Communities While Overseas
3:15-4:00p - Using Your Study Abroad Experience as a Catalyst for Your Academic and Career Goals
4:15-5:00p - Study Abroad Is for You, Too! Stories from Diverse Study Abroad Alumni on the Benefits of Studying Abroad and Addressing Culture, Identity and Fears
5:15-5:30p - Ask us anything! An Open Session for your Study Abroad Questions
About Diversity Abroad:
Diversity Abroad is the leading global education organization dedicated to increasing international mobility among students and young professionals.  Diversity Abroad strives to equip the next generation of young people from diverse and underrepresented backgrounds with the skills and experiences to compete in the 21st century global marketplace by having equitable access to meaningful global education opportunities. Learn more at www.diversityabroad.com.
About IES Abroad:
Founded in 1950, IES Abroad is a global, not-for-profit academic consortium of more than 240+ top-tier American colleges and universities that provides premier study abroad and internship programs around the world. With more than 120 study abroad programs in 35 locations worldwide, the organization creates authentic global education opportunities for more than 6,300 students annually. IES Abroad has more than 110,000+ alumni who have benefited from studying in IES Abroad programs since its inception. For more information, please visit www.IESabroad.org.
About International Education Week:
November 14-18 marks the 18th anniversary of International Education Week (IEW), an annual celebration of international education and exchange worldwide. Institutions across the United States and around the world are hosting events throughout the week to recognize international students, education abroad, and internationalization. For more information visit, www.NAFSA.org.
About Keynote Speaker, Tracey Friley:
Tracey Friley is the founder of The Passport Party Project and One Brown Girl in Paris and has been taking teen girls on travel adventures to places like the U.S. Virgin Islands, Belize, Lake Shasta, Paris & Toronto since 2010.
A self-proclaimed culturalista and Francophile, Tracey is also a lifelong entrepreneur with an MBA in Global Management who enjoys planning and hosting trips to Paris for women & girls, and has owned & operated a French-themed permanent pop-up boutique for close to 10 years where she sells the treasures she finds while travelling. The creator of The Phantasmagorical Adventures of Buttercup Bottletop, Tracey finds magic wherever she goes.
Tracey has been honored with a Leadership Award from the United States Bureau of Consular Affairs for the effective use of social media to promote and encourage participation in Passport Day in the USA, along with awards from National Geographic Travel, American Express Passion Project, The Huffington Post, G Adventures, Wyndham's Women on Their Way, Black Enterprise, Black Weblog Awards, and more.
When she isn't on a plane, a train, a car, a boat, or hanging out with her husband, Tracey can be found planning and producing travel events ultimately aimed at helping to create global citizens and giving girls of all ages a world view.
Source: Diversity Abroad and IES Abroad
Share: